Giving kids a fair chance to learn
Originally published at Bangkok Post in Opinion section
Last Saturday marked World Book Day, a day that celebrates reading -- one of the most effective tools of learning for young children during their formative years. Yet many children in Thailand, particularly those coming from poor and marginalised groups, are not given the tools and support they need to read and learn effectively.
The first six years of a child's life are a time of rapid change, and their early experiences directly affect their brain architecture. This provides the foundation for their future learning, health and behaviour. If children are not meeting their developmental potential in these key early years, it can have both an immediate and long-lasting impact on their futures.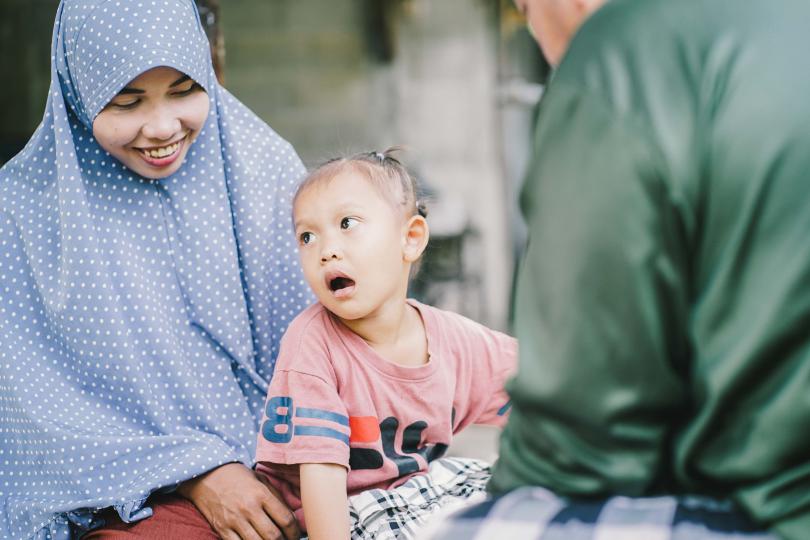 The demographic and geographical spread of educational opportunities in Thailand are extremely uneven. In Narathiwat province, in the southernmost part of Thailand, for example, only 45% of children aged 3 to 5 attend pre-primary school (the national average rate is 84%) and only 2 out of 10 children attending pre-primary school in Si Sakhon district are taught in a local dialect they actually understand. Another survey in Si Sakhon showed that there is both a lack of awareness around the role of parents and caregivers in interacting with their children, as well as limited availability of reading materials in the local language.
In 2016, Save the Children Thailand ran a study in Narathiwat and Tak provinces, and found that children in Narathiwat were scoring 30 to 50% lower than their peers in the Northwest in the four domains assessed: emergent literacy, emergent numeracy, physical development, and Social Emotional Learning (IDELA assessment). There are projects across Thailand looking to tackle this geographic educational disparity and provide children with the reading and learning access and tools they deserve.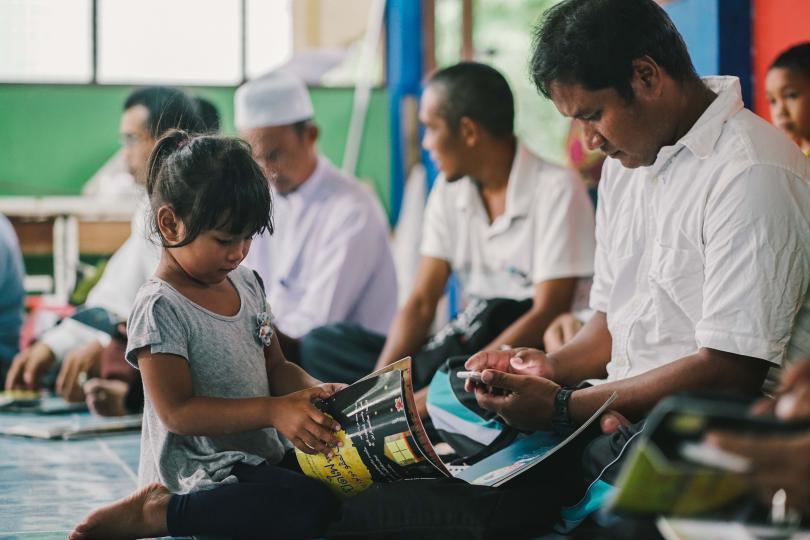 Save the Children's "First Read" and "Eat, Play, Love, Read" projects have run in Si Sakhon since 2016 with partners Yala Rajabhat University and the Perkasa Foundation. These projects are based on a simple premise: increasing parent's engagement in caregiving and improving access to compelling children's books in two languages (Thai and Melayu) will improve literacy and numeracy.
With the support of the Father's Reading network and local authors, multiple free Thai-Melayu children's books have been created and are free to download. The books have worked exceedingly well; in 2021, Save the Children Thailand ran an evaluation that showed a 16% increase in both literacy and numeracy since a 2019 survey. The projects have gone on to receive Royal approval, with Her Royal Highness Princess Maha Chakri Sirindhorn delivering an award for an "Outstanding Book for children aged 3-5" to Kaewta Sangsuk, and Rapeepan Phatanavech, the authors of The Story of a Big Watermelon on March 26. Projects like this tap into the enormous potential of parents realising their own power in improving the lives and prospects of their children, and how critical reading, learning and positive parenting is to those aims.
"The relationship between my daughter and I is closer than ever. Now I know activities and ways to play with my child. She is also very engaged and happy with the games and storybooks the school teacher gave her. These activities are an important step to promote early learning", said Karim Yahmalae, a 58-year-old father from Narathiwat, reflecting on his relationship with his daughter since joining the Eat Play Love Read intervention.
Ensuring the continuity and expansion of these projects, and projects like them, that emphasise access to reading and learning materials, and positive home environments and caregivers, will make positive steps towards ensuring equitable access to the Thai education system and a brighter future for all children in Thailand.
By Sarah Dubreuil, Business Development Manager, Save the Children Thailand. Somxay Inthasone, Education Technical Advisor, Save the Children Thailand.
This commentary marks "World Book Day" on April 23.