Making it click
Tuning teens in Thailand into e-safety
You know how it goes. You ask a teen about their school day and get a muffled response. Ask them to empty the dishwasher and receive inaudible agreement from the couch, where they're glued to their phone chatting to friends.

May Kaw (23) knows teenagers are much the same in Thailand, tuning out their parents in favour of their friends – and this extends to the young people he supports living in refugee camps on the Thai-Myanmar border.

May Kaw spent ten years living in a refugee camp after fleeing ethnic violence against the Karen people in Myanmar. Today he works as a youth mentor and has left the camp to live in Western Thailand.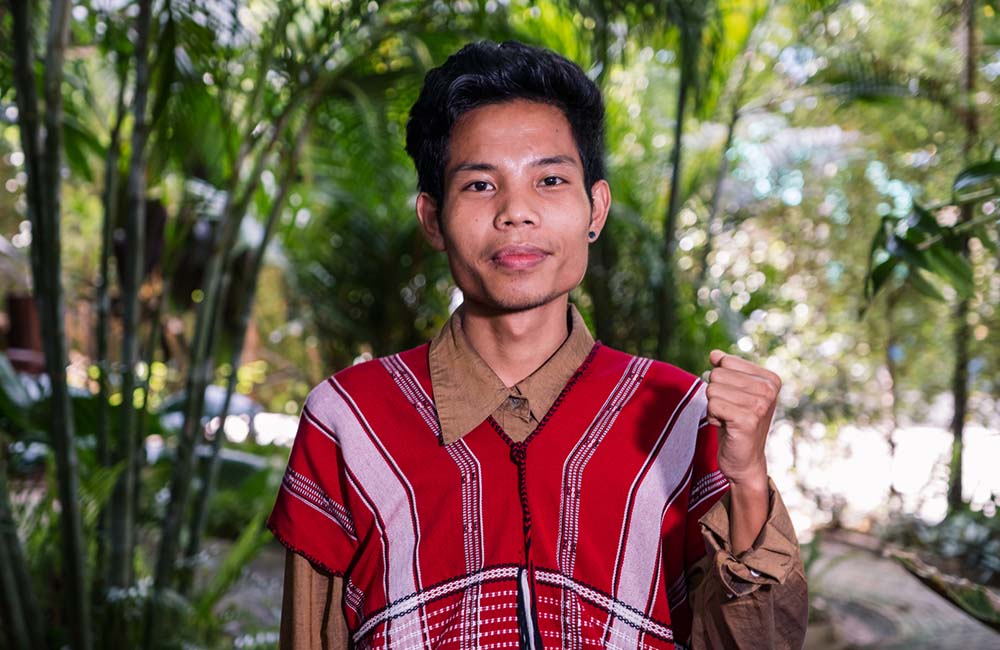 May Kaw (23) is committed to supporting young people to navigate the risks they face online.
But he knows the issues for young people there well and says they spend a lot of time playing games on phones or scrolling social media. It's hard to spark their interest and their parents don't always know how to reach them. They are already incredibly vulnerable, and even more so online.

We know children are at particular risk of sexual exploitation on the internet. This includes grooming from predators living abroad, who target young people exactly like those living in refugee camps – facing extreme poverty and unaware of dangers only a click away. Spending time online unsupervised may also expose young people to harmful content, as well as cyberbullying from peers.

May Kaw's four younger siblings remain on the Thai Myanmar border. He worries for their safety when they're navigating the dark side of the internet, but he knows they desperately need digital skills to build a better future.
Straight to the source
We're convinced young people have fresh ideas to motivate their friends to stay safe online. That's why Save the Children, with the support of the Australian Government, is piloting an innovative new approach – we're asking young people to help us get the job done.

Through the ROAR project, Save the Children has brought together an inspiring group of young people to help minimise child protection risks for migrant and refugee young people in Thailand. The team are already hard at work to better understand the dangers young people face on the internet and will turn these findings into an online safety campaign.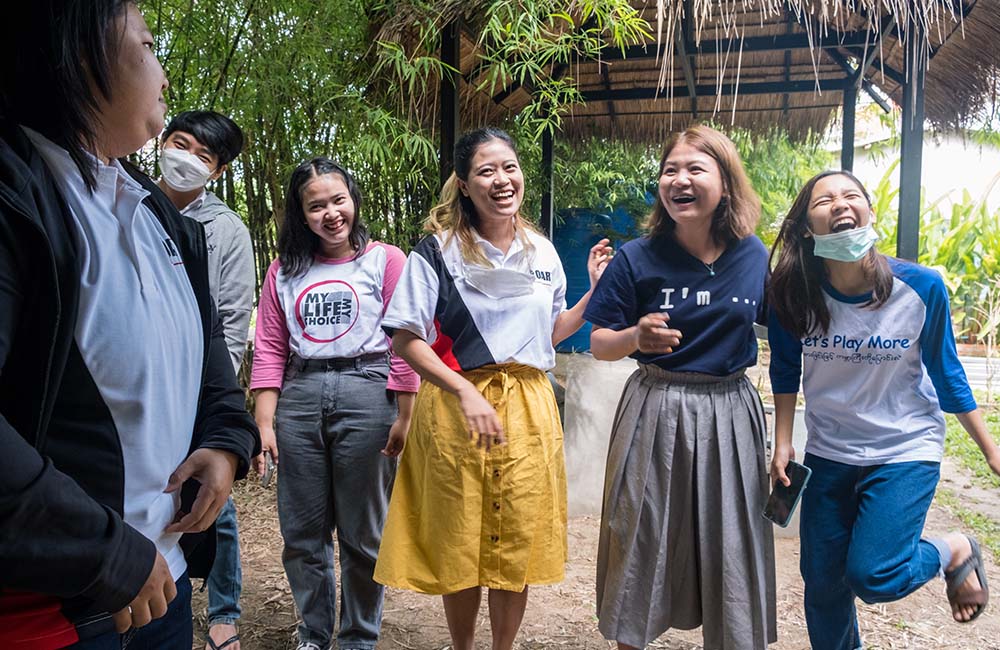 A group of youth facilitators conducted research to understand the risks refugee and migrant youth in Thailand face online.
The youth facilitators kicked this work off by quizzing friends about online safety, including those young people living in refugee camps bordering Myanmar.

May Kaw's worries were confirmed. "We found out that young people in the camps lack understanding about digital literacy and online safety. They are unaware that their views, posts and comments are seen around the world," he says.

"Some are aware, but consider it unimportant," May Kaw adds. "Some are bullying each other on the internet."

These findings echo a recent Thai study , in which 69% of children aged 12-18 in Thailand reported experiencing cyber bullying and a further 68% revealed that they engage in risk-taking behaviour online.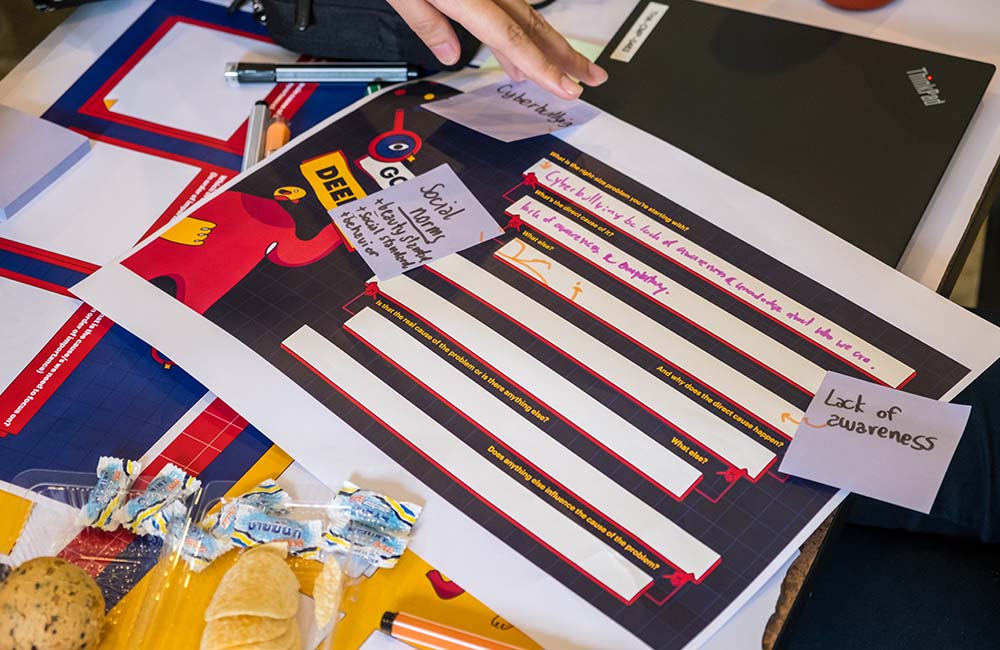 Youth facilitators take part in our campaign accelerator, Shift, to turn their research into engaging materials that keep young people safe online.
It all starts with a plan
Consultations complete, Saw May and the other youth mentors took part in our innovative campaign accelerator, Shift, which provides young people with the skills, tools, resources and networks they need to run their own campaigns.

The group spent a week using the findings they'd gathered to build the online safety campaign of their dreams.

They were encouraged to let their ideas run wild, identify the ones with potential, and get to work developing materials to get their campaign messages noticed. Together with young migrants and refugees, the team are coming up with creative approaches and ideas designed to stop their friends mid-scroll and motivate them to stay safe online.

With their campaign plans now in place, the group will soon meet their 'Creative Buddies.' These graphic designers and video editors who will work with the young changemakers to bring their ideas to life - and onto the screen – for their peers to see.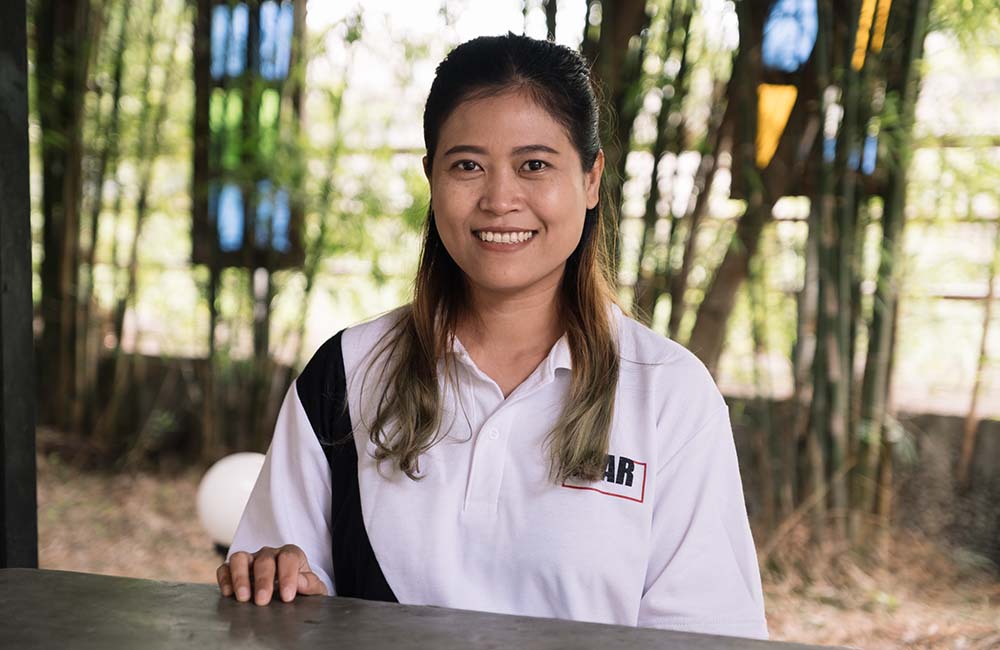 Joli is a youth facilitator with Rays of Youth, a local NGO we're partnering with to reach migrant and refugee youth in Thailand.
Joli took part in the workshop and is thrilled that young people are in the driver's seat of this project.

"The whole process is very exciting because young people get involved and find out the problems of the youth themselves," she says.

"Then they will come up with projects and tools to solve the problem themselves, and then run the education campaigns from youth to youth."
Ready to SHIFT the world
May Kaw and Joli hope that their campaigns have what it takes to make their friends listen and learn about online safety. "That kind of knowledge is extremely rare, most people don't grasp it," says May Kaw. "Only a few people are familiar in Karen society."

"Having the opportunity to learn about online safety is invaluable to me. And it would be fantastic if I could share that knowledge with the rest of [my community]."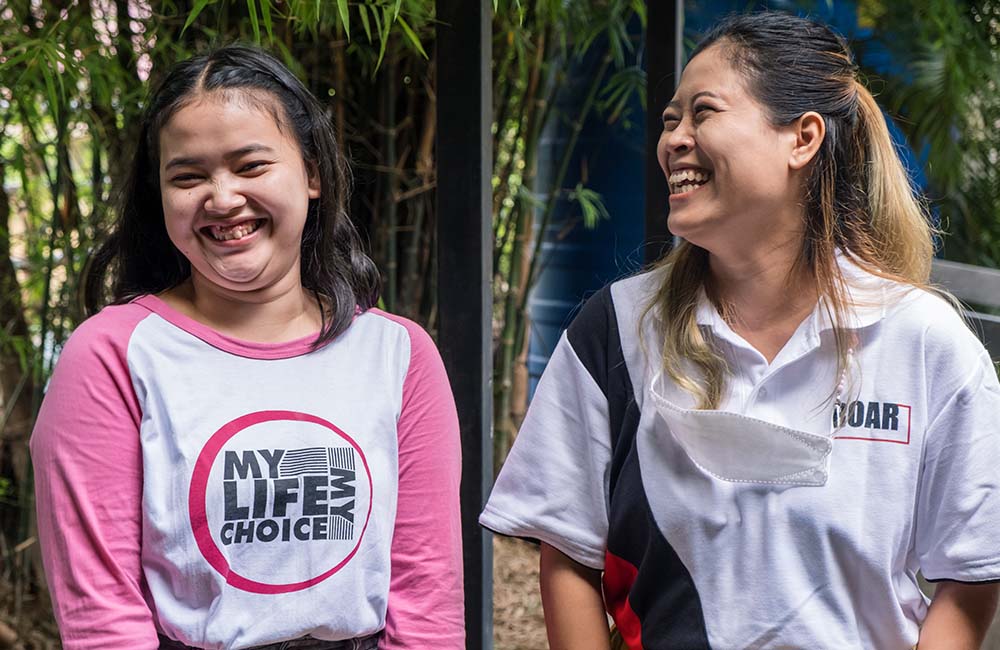 Thae Thae and Joli (right) are youth facilitators with the ROAR project, which is supported by the Australian Government through the Australian NGO Cooperation program.
Stay tuned as our team of changemakers launch their campaign to shift the world around them.

When the work is done, some parents in Thailand may still be on the receiving end of some inaudible grunts from their teenagers. But at least they can rest easy knowing their children are armed with critical online safety skills, ready to tackle the dangers – and the opportunities – that are only ever just a click away online.

Click the play button below to learn more about how Shift, Save the Children's innovative campaign accelerator, helps children lead change:
Photos: Sebastian Higginson/Save the Children.
The ROAR project is supported by the Australian Government through the Australian NGO Cooperation Program.