THAILAND FACES A READING CRISIS
As the world marks International Literacy Day, Thailand faces a reading crisis with nearly a third of 15-year-olds are "functionally illiterate"
Save the Children is calling for action on Thailand's reading crisis as the world celebrates the 50th International Literacy Day, which highlights the importance of reading and writing across the globe.
The aid agency is concerned that more than 30 percent of 15 year olds in Thailand are "functionally illiterate", according to the Programme for International Student Assessment , meaning they lack the skills needed to manage daily living and employment tasks requiring reading skills beyond a basic level.
Allison Zelkowitz, Country Director for Save the Children in Thailand, said marginalised groups like refugees, migrants and those who speak minority languages in Thailand are particularly disadvantaged when it came to accessing education and learning literacy. A reading assessment published by Save the Children last year showed that nearly half of migrant children in Thai schools were unable to understand a basic text.
"There are more than 200,000 migrant children in Thailand who are currently out of school and at risk of facing significant disadvantage in their future because they cannot read or write at a functional level," Ms Zelkowitz said.
Save the Children is campaigning for every last child in Thailand to enjoy their right to learn in a quality education, including the most vulnerable groups of refugee and migrant children and ethnic minorities.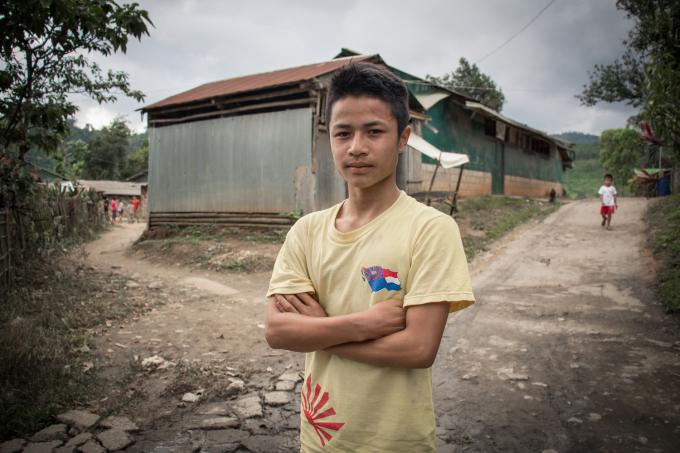 Ayea, a 15-year-old boy from a refugee camp in Mae Sot, and thousands of other children like him, are very concerned that they will not be able to continue learning past the age of 16 as any opportunities there after would require strong reading and writing skills, and in English nonetheless, which is exposed to them only at a very basic level.
"The teachers now are very concerned about the students passing exams. If they fail, they will have to retain for the year." shared Ayea on the struggles faced by most children his age.
Last year the aid agency conducted a review of education for migrant children in Thailand which estimated that more than 60 percent of migrant children were out of school.
"But it's not just children from marginalised groups who are falling behind. Thailand's reading crisis is across the board," Ms Zelkowitz said.
"As such, Save the Children is calling for greater investment not just getting more children to school, but ensuring teachers are trained to teach reading in children's mother tongue, parents and communities are there to support their students and more and better books are available.
"Being able to read and write proficiently is fundamental to a child's development and their wellbeing in the future."
To mark International Literacy Day, Save the Children is today launching a new global report, "Lessons in Literacy", which outlines eight key principles the aid agency has developed for a more literate world:
Start early
More and better books
Engage parents and communities
Ensure teachers can teach reading
Language matters – learning to read should begin in the mother tongue
Practice, practice, practice
Assess and track
Policy
"These eight principles, ranging from ensuring government policies support and sustain teachers, communities and parents to enable children to learn to read, to providing children with ample opportunities to practise their literacy skills inside and outside of school, to providing education in the mother tongue, have been developed from more than 20 years of quality education and literacy programming at Save the Children across more than 30 countries," Ms Zelkowitz said.
"They are fundamental to a child's capacity to learn to read and write. Thailand has made great economic and development progress in recent years that has seen tremendous growth in overall living standards and a reduction in poverty, however, this literacy crisis must not fly under the radar. It needs to be addressed right away."
Save the Children is calling on Thailand to commit to deliver the eight principles outlined in the report. The national reading plan developed across several ministries is a good start, but more needs to be done to ensure good quality children books are accessible in remote areas, parents are meaningfully engaged, and children receive primary education in their home language.
To help every last child learn to their full potential, Save the Children has implemented a range of literacy programmes for vulnerable children in Thailand, including "Literacy Boost" in 2015.
Now the aid agency is preparing to launch "First Read" in Thailand's south with the Thai government, which aims to improve and develop foundational literacy skills in young children through research, parent engagement and book development.