MY HOPES AND DREAMS
"I have no expectations for my future. I don't think things can be changed," Zalu said when he first arrived to the Surat Thani shelter.
Back in 2015, eight-year-old Zalu* made his first journey to Thailand by boat with his sisters and a nephew. They were in search of safety and a new life in Malaysia. Zalu lost his father at a young age, and his mother passed away six months before he left Myanmar. His family was forced to leave their home in Rakhine state due to escalating conflict and the unstable Rohingya situation that threatened their well-being. Zalu does not remember all of his siblings' names, as his family is scattered across various countries, including Saudi Arabia and Malaysia.
Zalu and his family left Myanmar when one of his brothers in law arranged for their exodus to Malaysia. They boarded a small fishing boat not too far from their village and then transferred onto a larger boat after two days into the arduous journey. During the first week of their travels, Zalu was hopeful about his new beginning. But when the food they brought began to run out, he came to the realization that he only had 2 boiled eggs and two glasses of water to live off per day. Also, the boat began to stink as there was no opportunity for a shower or other conveniences and proper sanitation. The journey took over a month before Zalu reached the coast of Thailand. Whilst waiting for their transit to Malaysia, Zalu and his family took refuge in the jungle for two weeks before being discovered by the Thai police.
When he first arrived to the shelter, Zalu showed signs of depression brought on by a feeling of hopelessness. When asked about his hopes and expectations, Zalu said his greatest wish is "to be united with his family again." With regards to the future, Zalu said he does not have any expectations because he believes that things are out of his control and that circumstances cannot really be changed around him.
At the onset of Zalu's arrival at the shelter, Education in Emergencies was being provided to all Rohingya children by Save the Children for a period of 6 months. Education in Emergencies is a collection of activities for children who faced crisis situations, to aid in rehabilitative processes and transitioning in reconciling with everyday life. The activities are designed to suit the different education levels and age groups of the children. They include Thai/English language courses, life-skill workshops, and art therapy activities.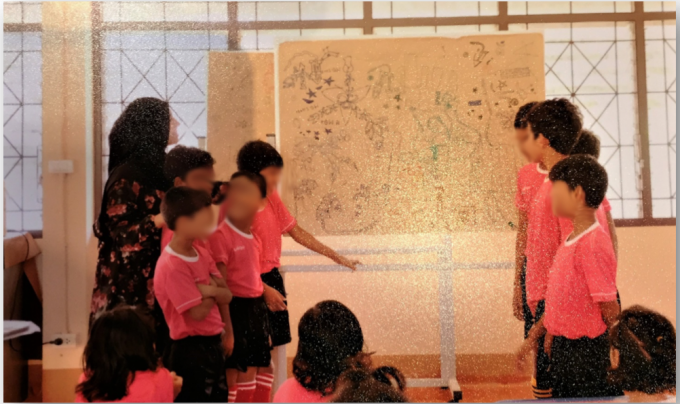 (Zalu during one of the Education in Emergencies activities in 2015)
Zalu had had some primary education in Myanmar for 6 months before arriving in Thailand. However, because he had to flee the escalating conflict situation, his education and learning development was interrupted. Because of this, Zalu was not able to read and write when he first arrived at the shelter. Nonetheless, an ability to pick things up quickly and his constant thirst for knowledge has provided him with a foundation to excel in learning and education.
In the face of such difficulties, it is easy for a child to lose hope, but this was not case for Zalu. From the onset, Zalu was very engaged with Education in Emergencies activities, and often took the extra step to ask for additional exercises, even seeking advice on how to make improvements from shelter staff. "I have various learning materials on Maths and English given by Save the Children, and often lend them to children who take an interest in expanding their knowledge. Zalu was one of the regular children who would come by," said Ms. Premrudee Rojchanthong, a social worker at the Surat Thani shelter.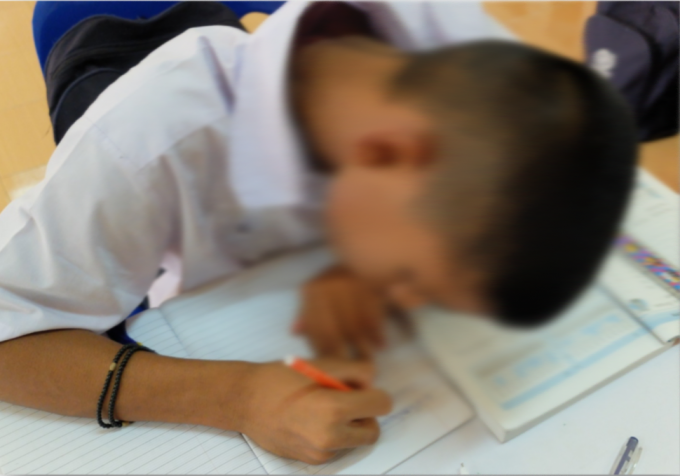 (Zalu doing his Math homework after school)
In due course, Save the Children's Education in Emergencies aided and prepared Zalu's transition into the Thai education system, where he has been until now. Throughout his time at the shelter, Zalu has shown very good progress in his personal-development and in his school learning. He possesses a strong sense of responsibility with his school coursework, and even helps his friends with their homework when needed. Zalu is now among the top of his class.
"Before I did not understand what was going on in class because I do not understand Thai. But now I'm beginning to understand Thai more and able to read and count. My favorite subjects are Maths and English. I like these subjects because I find the skills from these classes to be useful in my daily life. I was thrilled to hear that I got 4th place in my class. In the future, I want to be a Maths and English teacher," said Zalu.
Through Zalu's case, it is apparent that Education in Emergencies had provided crucial support in his personal development, and moreover, has had a transformative effect on the social worker in helping Rohingya children rebuild their lives. Initially, Ms. Premrudee viewed that children from a certain age group would be limited to a particular education level, consequently attributing a certain level of expectations on their performance and potential. However, in her own words,
"This was not a precise approach, as children come from different educational backgrounds and levels. Through Education in Emergency activities, I have adjusted my approach to assisting these children. I've learned not to push too hard and have provided them with a foundation that matches their knowledge level before enrolling them into the Thai education system".
For the past 3 years, Save the Children has been providing psychosocial support to assist children at shelters in the south of Thailand. Many of these children are undergoing distress as a result of struggling through a post-conflict situation, involving separation from their families, a difficult exodus from their homeland and escaping violence. It is, therefore, crucial to provide this support at a time of their vulnerability. During the initial phase, psychological assessments and Education in Emergencies were provided to women and children as direct assistance, followed by case conferences and individual care-plan services for those in need of care that is more attentive.
For the next phase of the project, Save the Children will work closely with shelter staff on capacity building and case management, to ensure the sustainability and thus impact of the assistance provided. In particular, child safeguarding policy development and training in all 8 Welfare Protection Centres for Victims of Trafficking, which is essential to holistic protection services for child victims as much as to the effectiveness of SCIs programmes. This includes training on child safeguarding procedures, on positive approaches to work with children, and on the techniques to respond to particular concerns about a child. Additionally, workshops on case management will be provided to promote professionalism and the highest quality of care administered by the shelter staff, which includes formulating care-plans that are most suitable to the gender and age of the child. These services ultimately aim to promote the welfare of displaced children and protect them from harm, while addressing their specific needs during their stay at shelters in the south of Thailand.
(* Indicates that the name has been changed to protect identity)