"Seeing road safety through my lens"
As we embark on a journey to address road safety concerns for children in Thailand, let's hear what the children have to say.
Children are among the most vulnerable group of road users, with traffic collisions killing over 2,600 yearly and 200 children are injured or disabled every day. Road accidents is the number one leading cause of injuries and disabilities of Thai children, with an average of more than 7 children killed on the road daily.
When decisions are being made for children with regards to their safety, it is important that their opinions are taken into account as they are the key informants of matters affecting them. To gain insights into children's perceptions on road safety and to inspire a culture of safety among youth, a photo voice workshop called "Seeing Road Safety Through My Lens" was launched by Save the Children to provide platforms for children to voice their concerns and participate in the road safety conversation.
Photo voice is a participatory research method that combines photography and critical discussion, with the ultimate goal of engaging people most affected by the issue, through storytelling photography, to inform social action or bring about community level change.
Bringing Children's Voices to the Communities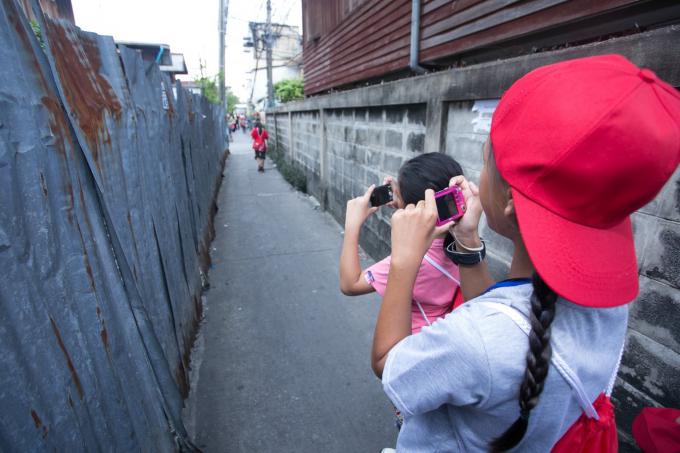 (Children from Phasi Charoen district taking photos of a narrowed street in the community)
In May 2018, Save the Children organized 2 workshops in 2 Bangkok districts, gathering more than 30 children to participate in the activity. From these workshops, children learned photo-taking techniques and took photos of road hazard areas in their local districts, focusing on routes that they travel regularly from home to school. The initiative not only encourage children to be active learners and citizens, but also empower a sense of community ownership among them in ways that they had not experienced before. As remarked by Athawadee Nitithampipat, 13, Don Mueang District,
"While I travel down this route on a regular basis, I have never noticed these risk areas in my neighborhood before. Many photographs I took today represent areas I wish could be improved on. I hope my voice today will reach those who are responsible for these improvements and thereby be an instigator of change for the communities."
In addition to photo-taking activity, children's photographs were selected and presented at exhibitions, where members of the community, including parents, police, and district officials came to learn about road safety concerns through the viewpoint or 'lens' of children.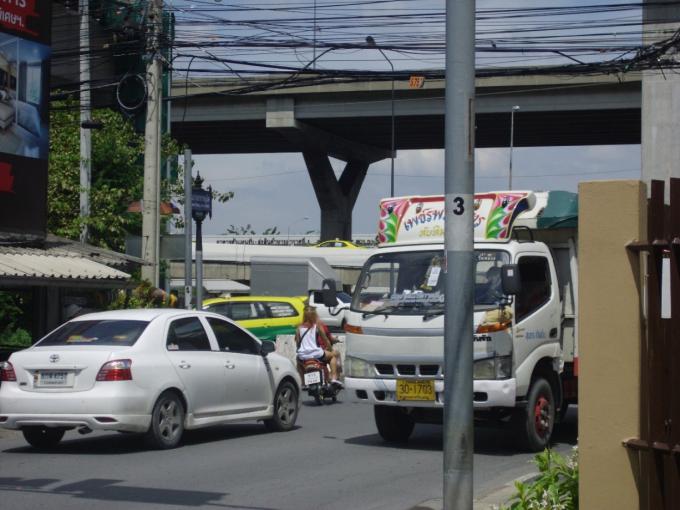 (Photo taken by Gotchakorn Munpom from Don Mueang district)
One of the photographs presented at the exhibition, "When Remember, Wear Your Helmet" by Gotchakorn Munpom, 11, Don Mueang district, raised concerns regarding helmet safety. Gotchakorn presented that she wished for people close to her wear helmets every time they hopped on a bike, in order to prevent serious road accidents. At the exhibition, she urged that a reminder sign be put up in the area. The exhibitions raised awareness among the communities about the role of children in road safety.
As Save the Children speaks out for children's rights and highlights children's needs, we seek to amplify children's voices and create space for children to take a greater part in decisions that affect them. Our aims are to ensure that their voices are heard and to bring about sustainable impact at scale that truly address their needs.
Currently, Save the Children is working closely with communities, governments, civil society organisations, and the private sector to raise awareness on the importance of road safety measures around school areas and to bring about inclusive approaches to promoting road safety zones for children in a number of districts in Bangkok.