SAVE THE CHILDREN AT THE ASIA EDUCATION SUMMIT FOR FLEXIBLE LEARNING STRATEGIES FOR OUT OF SCHOOL CHILDREN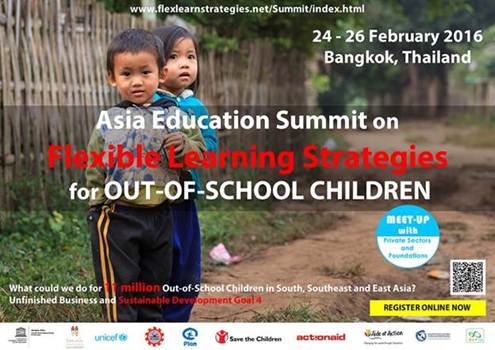 Save the Children Thailand will be supporting the "Asia Education Summit for Flexible Learning Strategies for Out of School Children" in Bangkok, Thailand from 24-26 February 2016. Our session will be on Education in Emergencies programme for displaced and stateless children arriving in Thailand due to the Andaman sea crisis.
To find out more about the event, click here.
For the event programme, click here.
###
For more information, please contact:
Songporn Leelakitichok
Communications and Advocacy Coordinator
Save the Children Thailand
Email: bea.leelakitichok@savethechildren.org