HELMET HERO - REACHING MILLIONS
A monk stands at the side of a busy road in Thailand and stops motorcyclists driving past. 'If you want to stay safe, where a helmet,' he says. 'I can only help you spiritually.'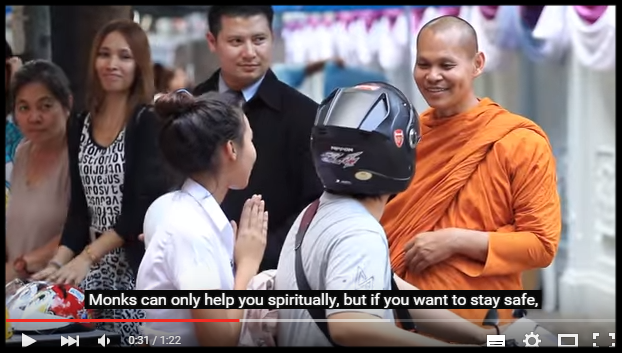 This is the punchline of the successful campaign 'Helmet Hero' by Save the Children Thailand, which has reached 1.8 million people via Facebook, 1.9 million via blogs and 1.3 million via Skytrain and the underground, where the videos are showing.
Read the interview with Allison Zelkowitz, Thailand Country Director to learn about why the campaing has been successful and what it hopes to achieve.
What is the Helmet video project and how did it come about?
The "Helmet Hero" campaign was designed to inspire the Thai public by showcasing 11 stories of great people from diverse walks of life, all promoting helmet wearing to save lives. The stories include "biker chicks", a teacher, a dog and his owner, a musician, a monk, an architect, a mother, a doctor, a corporate HR director, a policeman, and a TV host. The "Helmet Hero" campaign was the brain child of SideKick, our social business media partner – they are experts in campaign and social mobilization.
Why did you decide to do a social media campaign?
Social media allows us a great reach with lower cost. It is also helping us build a movement, which is not always possible via traditional media. We're hoping that the wide reach of the Helmet Hero campaign will create a strong, engaged and mobilized fan base that will support our 2016 advocacy goal: making helmets part of the school uniform in the Bangkok metropolitan area.
Why do you think the campaign has been successful?
So far we estimate we've reached 1.8 million people via Facebook and the video series, and 1.9 million via blogs. We're also reaching at least 1.3 million people on the skytrain and underground, where the videos are showing. We think the campaign has been successful for a few reasons: 1.) Some of the videos are quite amusing and funny, and Thai people love to laugh 2.) all the 11 "Helmet Heroes" have their own networks, so these networks have each helped promote the campaign, and 3.) we continue to ensure the campaign is very "Thai," not foreign. The only time you'll see English subtitles is on separate youtube links, not on the primary Facebook pages or videos. We are focusing on reaching a Thai audience, and our media partner is Thai. 4.) We partnered with a social media and campaigning expert, SideKick, rather than trying to do this all ourselves. We have a very close partnership with them, and we trust them to develop and implement our media strategy.
What are the key objectives of the Helmet project and what plans do you have for it going forward?
We aim to increase children's helmet wearing from 7% to 60% in 3 ½ years, thereby saving 2000 children's lives and preventing 50,000 from serious head injury. We can only do this if we scale up dramatically over the next two years, with near blanket coverage in Bangkok and some national level coverage. Next year our campaigning and advocacy work will focus on making helmets part of the school uniform policy in the Bangkok metropolitan area. In 2017, we hope to convince the Ministry of Education to make helmets part of the national school uniform policy.
How has the Project 7% campaign developed since its launch one year ago?
The 4 key components of the project – behavior change in schools, helmet adaption, increasing enforcement, and media and advocacy – remain the same. Over the last year, we have piloted our school behavior change methodology and learned a lot from that, so we aim to scale that up to hundreds of schools next year. This year we've also partnered with the Marriott to conduct children's helmet decoration events throughout the country, so that kids' feel more ownership over their helmets. Now we hope that with the Helmet Hero campaign, we'll not only be able to launch our advocacy work, but we'll also gain enough attention as to secure further partnerships and more funding, which is sorely needed in 2016.