TEACHER HELMET AMBASSADOR VOWS TO PROTECT HER STUDENTS
By Songporn Bea Leelakitichok
Uraiwan Sanornam is a computer teacher of Wat Ratburana School, a small-scaled urban school in Bangkok, where she has taught for 3 years already. Because the school is quite small, most teachers teach one or two subjects to the students in all grades and are familiar with all of the students. Uraiwan began "I like teaching here and I like the students here a lot."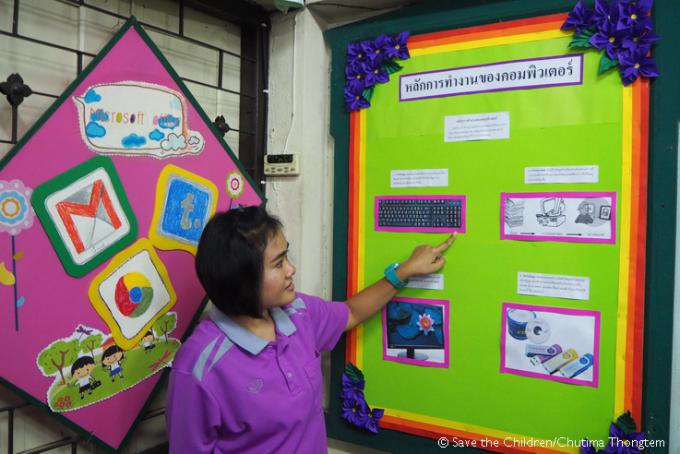 Uraiwan Sanornam, Wat Ratburana School, a computer teacher, instructs students in computer principles
Uraiwan is not from Bangkok originally and feels that the roads in Bangkok are so dangerous because of so many vehicles on the road. As a teacher, she comes to school earlier than her students to ensure she sees them arrive safely at the school. However, she has noticed that most students come to school on motorcycles without helmets. This has very much worried her about the students' safety. "Some students rush off the motorbike even before the motorbike engine stops," she said. She feels that since most children are using motorcycles as the main vehicle to travel from home to school and other places, they are immediately at risk on the road when they do not use helmets during their motorcycle rides.
In addition, she has witnessed several road accidents. "Some of the accidents were small crashes. Some were big. It was worse when a car hit a motorbike and the passenger was a small student who wasn't wearing a helmet," she explained.
There has been a serious case that she still remembers. It was a student of another school who was on a motorcycle that was hit by a car. He seemed to be badly injured because he was not wearing a helmet. Uraiwan talked about the accident "I was on a bus and saw the accident. There was a lot of blood on the road. It looked like a serious one. The child might be transferred to a hospital afterwards. He was in his student uniform. But I don't know what happened next. I hope he was ok." She does not want that to happen to her students. "I can't imagine if it was a student from my school; if it was a student I knew. Thinking about it really makes me sad and feel guilty."
"That was when I realized I must do something to help my students. They need to be aware of the use of helmets every time they ride a motorcycle," Uraiwan said. So it was easy for her to decide to take part in the 7% Project activities when she was selected from among other teachers in her school to be one of the two "Teacher Helmet Ambassadors" for the project from her school.
"When I was selected among the teachers here to join the project activities, I told myself I could also help save the children's lives."
Uraiwan continued "The 7 Percent project is a good project with clear approaches to make sure children understand the reasons why they need to wear helmets and protect themselves."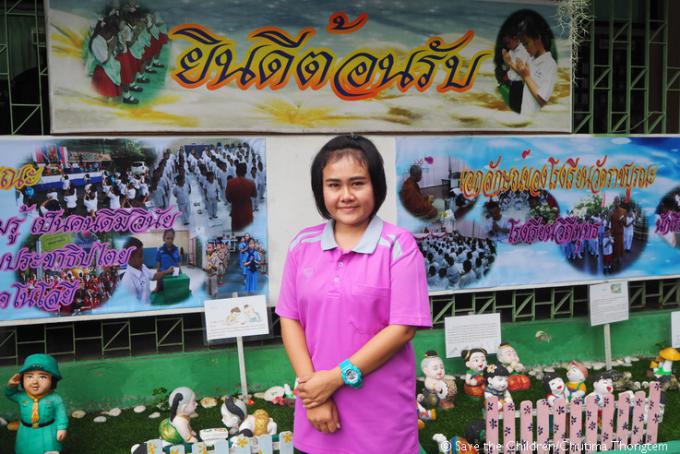 Uraiwan is proud to be a teacher and feels the obligation to protect her students
Since Save the Children began to conduct school intervention activities at the school with the students and teachers over the past few months, she has noticed a change in the students' behaviors, as well as the parents'. After the training sessions, the student ambassadors would share their experiences with their friends, classmates, and parents. Although the school and the teachers, including herself, had reminded the students to be mindful, prevent themselves from risks, protect themselves from road accidents by wearing helmets, it was not as effective as it is now that the students remind one another to do so by themselves.
"They have gradually been wearing helmets more often. They tell each other to do it. I only monitor them from distance and give them advice when needed," she explained. "The parents who seemed to be the challenge to this activity at first were even convinced to have their children wear helmets to school when they ride motorbikes. They listen to their children and help to remind their children to put on helmets each morning before coming to school. They think it is an easy way to help save their children from being injured and dead if a road crash occurs."
However, she expressed her concern over the project activity "My concern is the continuity of the activities. Educational activities like those of the 7% Project should be maintained and continued to make sure that children remember the messages and practice it instinctively."
"I think the 7% Project by Save the Children has made a difference. At least, before the children leave their home to come to school, they are reminded to wear their helmets. They understand more about a helmet, learn to wear a helmet properly, and see it as their duty to protect themselves as well as their friends and families," Uraiwan concluded.