PROUD TO BE SAVE THE CHILDREN STUDENT HELMET AMBASSADOR
By Songporn Bea Leelakitichok
Walid Namvilai (Jean), 11, was selected as the head of grade 6 class at Wat Ratburana School since the beginning of the school year. He has always been a great leader for his classmates guiding them to be a good student who does well both in class and out of class. Jean does well in school, according to his teacher, makes good grades, and is loved among his teachers and friends. Many of his classmates admire him and want to be like him.
Since Save the Children introduced the 7% Project and its educational activity to the school in 2015, Jean was chosen by his peer to be their representative – to be their "Helmet Ambassador". Jean has since participated in all of the education activities carried out by Save the Children following the creative tool kit that Save the Children developed and provided.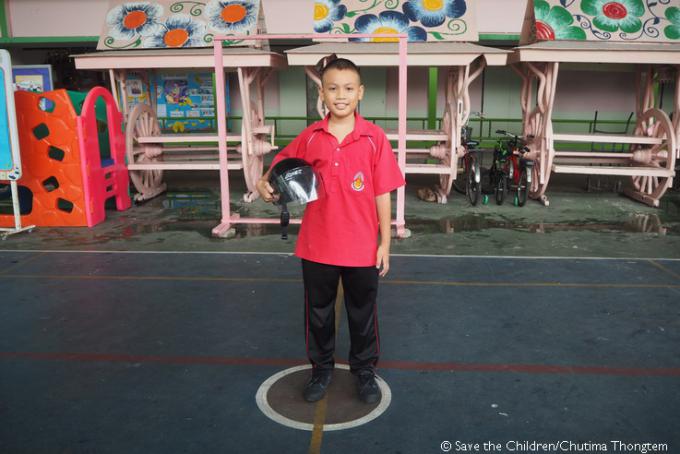 Jean is proud of his title and role of the project "Student Helmet Ambassador"
"My friends chose me as the Helmet Ambassador for this activity," Jean talked about his first impression towards the project activity. "I didn't know what that would mean to me, but I just accepted it anyway."
Before being entitled as a Student Helmet Ambassador, he did not think it was necessary to wear a helmet when he rides as a passenger on a motorcycle. Sometimes he just simply forgot as it was not part of the routine that he had to do every day going from home to school and vice versa. His parents occasionally reminded him to do so, but were not very strict about it.
"In the past, I didn't always wear my helmet when I rode on my dad's motorcycle to school because I didn't think it was necessary," Jean explained. "Actually I didn't even think about wearing it at all."
However, after participating in the first few sessions of the activity, he gradually understands why. "But when I got to learn more about the 7% Project activities and what Save the Children staff taught me, I enjoyed it and understood why it was important," Jean continued.
In addition to the demonstration, he also learned how to wear his helmet properly by adjusting the helmet chin strap to fit his chin. In this way, the helmet will not fall off his head if he falls off a motorcycle. "Most of my friends didn't know how to wear a helmet in the right way. And they got excited when I told them so," he said.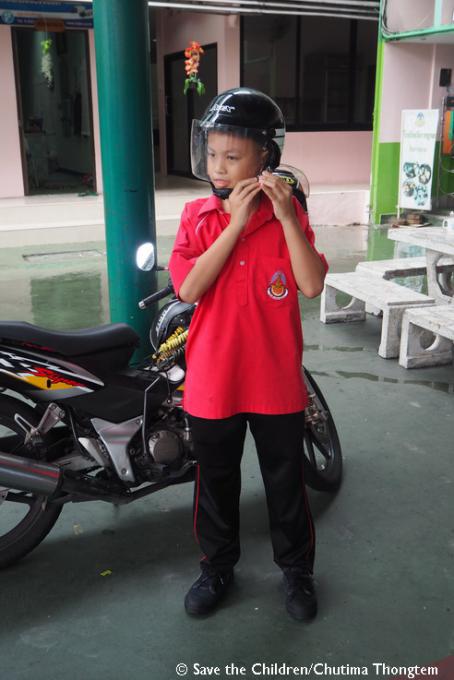 Jean adjusts his helmet chin strap to ensure it fits him well to protect his head before embarking on his motorcycle journey
He also learned how to work with his friends to develop their own messages about the importance of helmet use. Now he fully understands why he has been told by Save the Children to always wear a helmet every time he rides a motorcycle.
Now that he is fully aware of the issue, even as a child he realizes his potential to expand the knowledge he has received to other people too. "Now I know a child like me can do something too. First, we have to protect ourselves, then we can protect others," he added. He further adapts some of the activities and practices he has learned from the training to conduct some focus group discussions and activities with his friends in class and explained to them that wearing a helmet when riding a motorcycle is crucial because it could mean a life.
The result that been that "My friends have started to pick up on this and more of them wear helmets to school," Jean said.
"For me, now I always wear my helmet to school, to go home, to go to 7-11, etc. It has become a habit." He has even prompted his parents to remind him, and sometimes his sister, whenever they go on a motorcycle trip, regardless of distance. His friends have also started to do so similarly and have promised to continue the good practice. It makes him very proud to be the spokesperson on this important issue for his friends and family.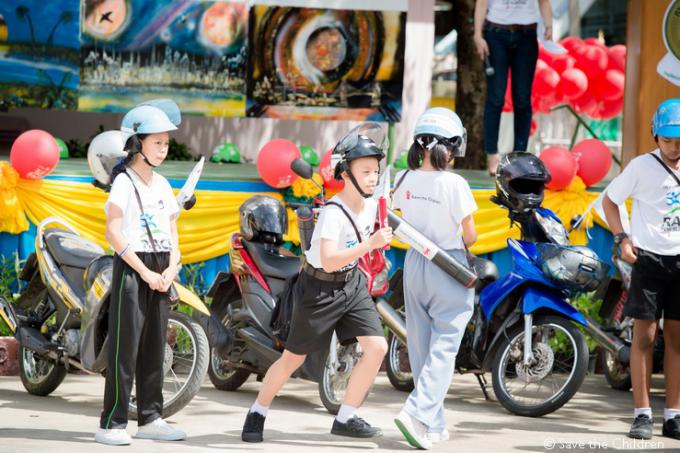 Jean ran in Save the Children's "Race for Survival," a global campaign initiative aiming to call for an end to children's deaths from preventable causes, addressing the government to strengthen their support on child helmet use.
"We will keep up with this good practice, and we will tell more people to do the same, because if we die then none of our dreams could come true," Jean concluded.
The 7% Project's objective is to ultimately increase children's safety when riding as passengers on motorcycles, and hopefully save children's lives. As part of the project, Save the Children has completed student/teacher helmet ambassador trainings at the pilot schools in Bangkok, including Wat Ratburana School, where Jean is studying in Grade 6. Using the Behavior Influence method as one of the ways to influence the students, Jean was selected by his friends in his class to be the "favorite" friend, and a "Student Helmet Ambassador." Along with his fellow student and teacher ambassadors, Jean took part in the 7% Project activities in raising awareness of proper helmet use and its benefits. After the training, he is more aware of the issue and able to convey messages on the importance of helmet use to his friends and family, and consequently save their lives.