DEPUTY BANGKOK GOVERNOR TO LAUNCH SAVE THE CHILDREN'S DRR INNOVATION EXHIBITION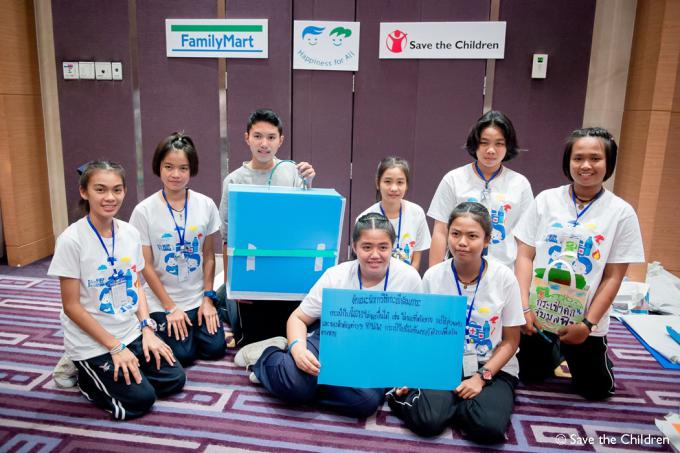 Save the Children, together with the Department of Disaster Prevention and Mitigation (DDPM), the Thai Red Cross Society, and support from FamilyMart, will launch the "Interactive DRR Innovation Exhibition Opening and Student Essay Awards Ceremony" on Saturday 6 February 2016 at 12.30 – 16.30 hrs at Bangkok Art and Culture Centre, Bangkok, Thailand.
Over the past few decades, Thailand has experienced many different types of disasters, resulting in negative impact on the victims, especially children who are vulnerable and may be seen as a burden to adults during disasters. As such, Save the Children with its partners in Thailand has implemented activities to allow children to express their thoughts about their role in helping their families and communities during disasters. A youth camp and a student essay competition took place last year to encourage children to create their own innovative prototypes to deal with disasters and stories of how they can contribute to their communities. These will help raise public awareness on disaster risks to children.
"With 313 submissions for the Disaster Risk Reduction (DRR) essay competition, it is a great sign that so many children in Thailand are aware of the issue. With sufficient knowledge and skills on the issue, children can help themselves and their families," said Allison Zelkowitz, Save the Children Thailand's Country Director.
The interactive exhibition will be from 2-14 February 2016. Children, parents, teachers, and the public can learn from the innovative prototypes designed by children and participate in mini-workshops throughout the exhibition period. The exhibition will be officially launched on 6 February 2016, together with the DRR essay winner award ceremony, a panel discussion on "Children's Role in Disaster Risk Reduction", and mini-workshops on disaster risks. The event will be presided by Pol. Gen. Aswin Kwanmuang, Deputy Governor of Bangkok.
"We are delighted to have the support of the Bangkok Metropolitan Administration, Ministry of Education, Ministry of Interior, and the Thai Red Cross Society to help us advocate to the Thai public around this very important issue," added Ms. Zelkowitz. "We are hoping to see many people at the exhibition over the next two weeks."
Event details
"Interactive DRR Innovation Exhibition Opening and Student Essay Awards Ceremony"
Representatives of the media are invited
Date: Saturday 6 February 2016
Time: 12.30 – 16.30 hrs.
Venue: Bangkok Art and Culture Centre
Registration starts at 12.30 hrs.
Formalities and activities start at 13.00 hrs., followed by exhibition entrance, panel discussion on "Children's Role in Disaster Risk Reduction", and mini-workshops on disasters and risks
Panel Speakers
Assoc. Dr. Suthisak Soralump, Expert on Disaster Management, Kasetsart University
Pavinee Yuprasert, Relief and Community Health Bureau, Thai Red Cross Society
Arun Pinta, Department of Disaster Prevention and Mitigation (DDPM)
Charurin Pholhinkong, DRR Project Coordinator, Save the Children
Sompit Thepduangchan, Baan Ton Phuang School, Chiang Mai Province
Suayhan Lungya, DRR Student Essay Winner of the Secondary Level
**Panel moderator: Darin Klong-ugkara, Thai PBS
###
For more information or media contact:
Songporn Leelakitichok
Communications and Advocacy Coordinator
Save the Children Thailand