ENSURING MIGRANT CHILDREN GET THE EDUCATION THEY DESERVE
K'Ler Htoo is 19 years old. She is married and has one child. She originally comes from Kgaw War Village in Karen State in Myanmar. She came to Nupo Camp when she was approximately 11 years old, although she does not remember exactly when. For two years now she has worked as a teacher at the camp's Primary School N° 4. K'Ler Htoo teaches students from Grade 3 to 6 and focuses on the Karen language subject, wanting to help her community. "I became a teacher because I wanted to help my children and our people to have more education for the new generation", she says.
When K'Ler Htoo heard from other teachers about the monthly Literacy Boost training taking place at the Office of Camp Education Entity (OCEE), she decided to enroll. She attended all of the training sessions because she found the content interesting and wanted to improve her teaching skills. K'Ler Htoo thinks that the training was useful because it allows to apply what she learnt while teaching.
Some students in K'Ler Htoo's classes encountered difficulties in reading and writing. There were not enough human resources, teaching materials or awareness of innovative teaching techniques to help these struggling students. Having followed the training, she now makes herself flipcharts, invents games - things she had never done before - and says that the children like them a lot. Further, she realised that they learn many new words and their performance improved. So K'Ler Htoo will continue using what she learned from at LBiE training in the future.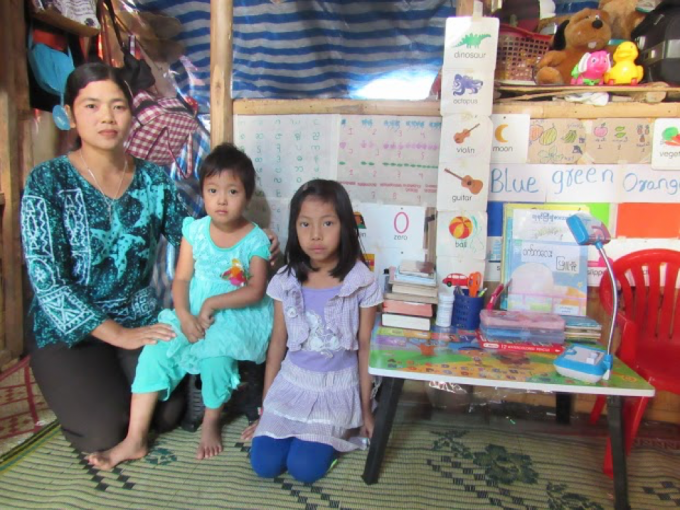 Helen, who is 38 years, lives in Umpiem camp with her family: her husband and two daughters - 7 years old Julia Chin and 4 years old Chimmy Thay. They fled from Myanmar10 years ago, when Helen's father – a local politician – died. Due to political and social difficulties it was too hard to continue living in the Shan State.
When they arrived to Umpien cam, Helen became a seller to earn for a living. She made efforts to find time for her children, helping them to do homework but sometimes when she was exhausted she did not want to take care of them and she would even scold them for fighting with each other.
A section leader included her into a list for Literacy Boost training. After the first session Helen became more aware of children's needs and their stress. She really liked the training and attended all 4 sessions, following which she created a reading corner at home.
"After I attended the training, I changed my way of calming down my children by story-telling. I made a reading corner. My children and I use this corner every day. I read the Bible and my children do homework here. My children read out alphabets and words. When my children's friends come over, they use the reading corner together." Helen explains.
She shared her knowledge with her friends and neighbours and is happy to see that now some of her friends also have reading corners.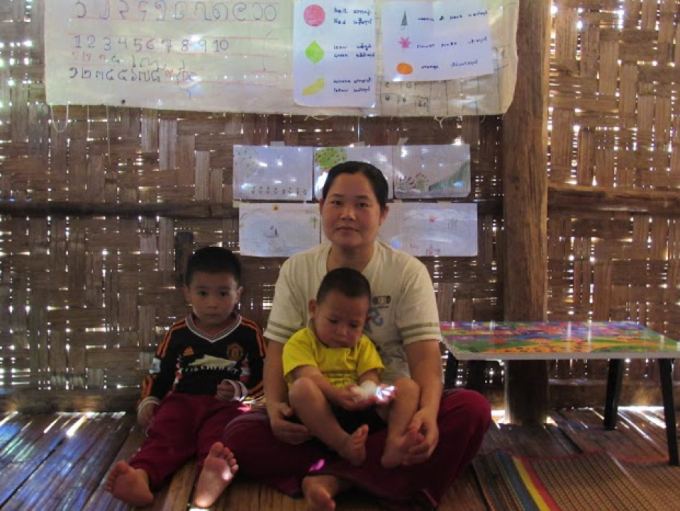 Similarly to Helen, also 38 years old Paw Mu attended a Literacy Boost training for parents on Social and Emotional learning and reading awareness. Paw Mu came to the Umpien camp with her husband and two sons - 5 years old Saw Naing Kaw Moo and 2 years old Saw Naing Tha Moo in 2011 fleeing from Karen state in Myanmar.
Paw Mu fled Myanmar because of economic and social hardship as well as difficulties with access to education. Paw Mu does not have a job. She stays at home with children. An acquaintance told her about the training and as she thought it would be better to enrol instead of just staying at home. "I was impressed with the first session of the training. It was about the child development and I thought I got more knowledge. So, I attended all four sessions because I did not want to miss even one class as I was curious to know about everything", she recalls.
Already before the training Pa Mu was looking after her children and spent time with them reading books or telling how life in Myanmar was. At the course she learnt new techniques, such as talking more with her children, drawing pictures and writing new vocabulary or teaching new vocabulary when cooking. Paw Mu does this on a daily basis and notes with pride her children's progress. Her older son speaks more and asks more questions. The kids write alphabets until they are familiar with it before going out to play. Both sons remember more letters and are able to read better. The older one will read out and the younger child will repeat and follow what the older does.
Prior to the training, Paw Mu did not scold children. During the training she learnt about positive discipline and shared this knowledge with her husband and neighbours. She encouraged them all to apply these techniques in disciplining children. Her husband spends now also more time with their sons. He helps supporting children to write numbers or words.
"Now, I am happy, my husband, two children, and I spend even more time together. My children come back home early to write and read alphabets. My older child reads out and my younger one will follow. My husband and I will spend time with them supporting them to read and write at our reading corner every night and when my husband is free from work."
What is Literacy Boost in Emergencies project?
Literacy Boost in Emergencies (LBiE) - a learning project aiming to raise awareness as well as support schools and communities, such as parents, caretakers, and community leaders in helping children to improve reading skills both in and outside schools. The project has been implemented in Burmese refugee camps in northern Thailand. LBiE project consists of Community Actions (including Reading Awareness training for parents, Reading Clubs for children and material creation allowing for opening book banks), Teacher Training and Social and a Emotional Learning Assessment.).